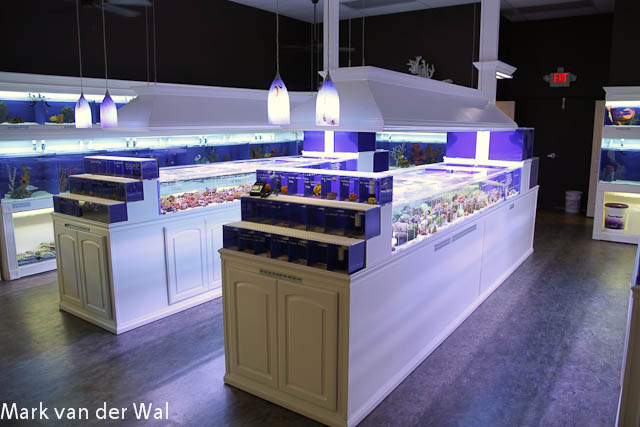 Atlanta has seen its share of local fish stores – some have succeeded, and many have failed. One veteran LFS owner in the Atlanta area is Jorge Medina who is credited with the creation of three well-known reef stores prior to his latest. The first was the Fish Store and More, which he eventually sold to start Aquarium Showcase. He sold Showcase to another gentleman after some time and moved to Augusta with his family, where he founded Star Aquatics. Recently, he has returned to the Atlanta area. His new store is located in Alpharetta, a northern suburb of Atlanta. It sits in the exact location of the original Aquarium Showcase. His new store, Pure Reef, is his best store yet and I wish the same level of thought and design existed in all reef stores.
Let's start with the entrance. You are greeted by two large room dividing tanks. One is a fish only, the other a reef. In front of these tanks is a novel concept, called "Seating"! My wife accompanies me to many LFS, and her interest level drops quickly. She always complains that there is nowhere for her to sit and read her paperback, while I geek out on the latest livestock arrivals. The minute she noticed the leather chairs and coffee table, she declared Pure Reef as her favorite store. Moving beyond the large display tanks is a huge area of dry goods and aquariums for sale. There are a variety of nano tanks, medium-sized aquariums, and a few large systems for sale. The dry goods line the walls, and the variety of brands is pure excellence.
Last we reach the livestock. This is where things are simple, and yet brilliant for being simple. There are three walls of fish holding systems, in a "U" shape. In the center, there are three large shallow coral holding systems. Getting back to the fish, the left area comprises of only reef-safe fish. The first set of  reef-safe fish tanks are relatively small and filled with nano-appropriate fish. Jorge recognizes the impact that nano-reefs have made on this hobby in recent years, and understands the need to provide a good variety of "nano" fish. And, that variety iss impressive. The usual suspects are available, but further inspection revealed some pleasant surprises like Assesors and rare Gobies. Moving further, we reach the larger holding systems for reef safe fish. Here we find an assortment of tangs, rabbit fish, etc. The most notable observation was the variety available. I was having a hard time thinking of a tang species not represented. Moving down the back wall to the right, you will find yourself checking out fish best suited for the FOWLR system.
The coral systems are clean and filled with everything you seek. All of them are shallow and wide. Each system represents a group of corals: Softies, LPS, and SPS. Each system also has a holding area for anemones, separated with a perforated acrylic wall. This means three separate areas for anemones, thereby segregating the species appropriately. The SPS system was 70% frags. Thumbs up for that. Overall, it feels like you are cherry picking at a wholesaler, instead of a LFS.
Caring for all this livestock is the staff. Jorge is always on hand to answer questions and talk hobby. His employees are polite, friendly, and true hobbyists. Whenever I express interest in a fish, they immediately offer to feed the fish for me. If a newly arrived fish isn't feeding well, they will hold it, and call me when it does start feeding. Little things like that make it worthwhile. Truth be told, I think some LFS employees forget that it is an expensive hobby. When you're spending a $100 or more on a fish, it's nice to see employees that want you to go home with a fish that is healthy and feeding right.
One final element to a perfect reef store, is to be neat and clean. Pure Reef is bright, airy, and very clean. You could eat off the floor. It doesn't smell humid or moldy.  So if you ever find yourself in Atlanta, be sure and pay Jorge a visit at Pure Reef.