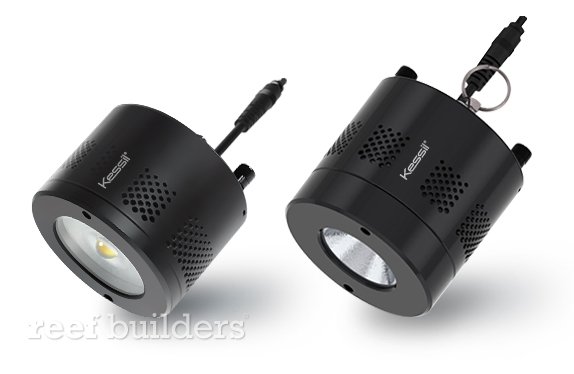 The buzz for Kessil's Tuna Blue LEDs has been building and leaking for a few weeks and now we're finally able to tell you all about the A350 and A350 LED spotlights from Kessil. For $399 you'll get your choice of two models of the 92 watt LED spotlight, the Kessil A350 LED available at the end of April or the Kessil A350w LED available at the end of May. Both the Kessil A350 and A350w feature two channels of manual control, a white channel with the same blend as the A150w sky blue and a blue chanel with the same blend of LEDs as the A150w Ocean Blue.
The Kessil A350 is a narrow angle LED spotlight that uses a combination common primary lens over the DiCon Dense Matrix Array multichip LED coupled with a reflector for an effecctive beam angle of 31°, recommended for tanks deeper than 24 inches (61cm). The Kessil A350w is a broad angle LED spotlight which has only the common primary lens over the LEDs for a beam angle of about 70° and is recommended for broad tanks and up to 24 inches deep.
As we suspected, the Kessil Tuna Blue's thermal management solution is the same as the one found in the H350 LED hydroponic grow light, a phase-changing vapor heatsink which is actively cooled, allowing for a ridiculously small package for 92 watts of LED power. Also, that untitled video that Marine Depot posted was indeed a demo of the Kessil A350 but for posterity Kessil has produced and released two videos on the Tuna Blue LED, as well as a pelthora of diagrams showing the PAR and spectrum of both models of the Kessil A350 and spectra of the two LED color channels.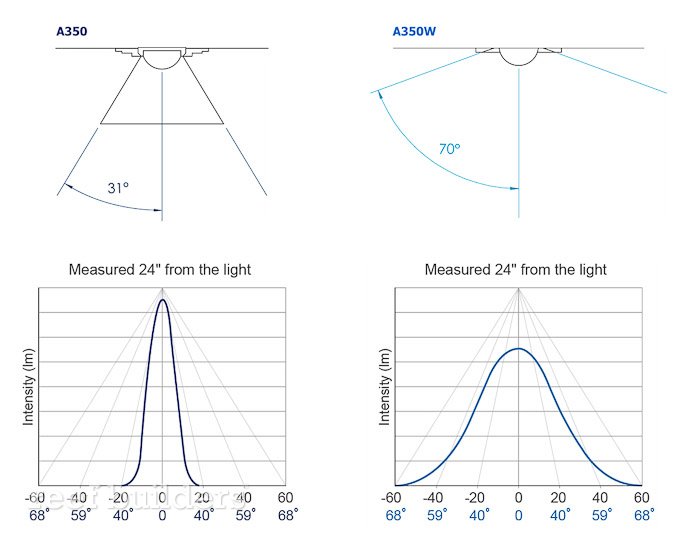 [youtube width="680″ height="400″]http://www.youtube.com/watch?v=a274crWylQU[/youtube]
[youtube width="680″ height="400″]http://www.youtube.com/watch?v=oVZvl-XjNNE[/youtube]
KESSIL RELEASES HIGHLY ANTICIPATED

A350 AND A350W TUNA BLUE AQUARIUM LIGHTS

RICHMOND, CAKessil lighting proudly announces the highly anticipated A350 and A350W Tuna Blue LED aquarium lights. Incorporating the latest high power Dense Matrix LED™ technology, the A350 and A350W platform delivers high-powered, vividly bright light with proprietary tunable blue spectrums specifically designed for aquarium and reef sector consumers. The release of these products represents another significant advance in Kessil's Spectral Revolution®.

The A350 and A350W Tuna Blue aquarium light, uses DiCon Lighting's X350 Dense Matrix LED™ platform, has an advanced vapor cooling thermal management system and a 90W maximum power rating. This uniquely designed spectrum is a combination of two slightly refined Kessil spectrums: Sky Blue and Deep Ocean Blue. These two spectrums can easily be adjusted by manually tuning two knobs. When both channels are at their maximum level, the spectral characteristic is close to Kessil's signature Ocean Blue spectrum, but a touch brighter.

Two different versions of the light are available. The A350 comes with a 31-degree (62-degrees edge to edge) reflector and delivers a stream of intense focused light that can penetrate to the very bottom of a deep tank. This model is recommended for users with tanks deeper than 24" or for reefers who have corals with high intensity lighting requirements.

KESSIL RELEASES A350 / A350W

AQUARIUM LIGHTS

The A350W is a "wide" angle model, with a beam spread of 70 degrees vertically (140 degrees edge-to-edge). Besides being a general-purpose aquarium light, the A350W is a great fixture for large frag tanks because of its vivid light output, compact size, energy saving efficiency, wide-angle coverage, and cool output.

"We are extremely proud of this major advancement in aquarium lighting with the creation of tunable blue spectrums", said Brian Chiang, DiCon's Vice President of Marketing. "We believe Kessil Lighting consumers will value the tremendous energy saving benefits of our Dense Matrix LED™, the vivid shimmering water and coral colors our lights produce, and the 'wow' factor created by the significant amount of colors this newly released Kessil light reveals."

The A350 will be available in the U.S. market beginning in late April 2012. The A350W will have a release date of late May 2012. Both models have a suggested retail price of $399.00. For more information, please visit www.kessil.com

About Kessil Lighting

Kessil® Lighting uses advanced brilliant high-power Dense Matrix LED™ technology, dramatically transforming the way lighting is used to grow plants for horticulture. It targets essential wavelengths for growth with powerful,

penetrating streams of light. Kessil® Aquarium Lights create vivid shimmeringwater and coral colors. They aresmaller, smarter, cooler, brighter, andenergy efficient, lasting up to 40,000hours. Kessil® is leading "The Spectral Revolution®".