COSMIQ+ Dive Computer
Last month, we had the opportunity to test out the new COSMIQ+ Dive Computer. COSMIQ+ and its parent company Deepblu, are forging a new path in the world of scuba diving, with their platform of connecting divers, through a shared social experience.
The COSMIQ+ Dive Computer is more than just an affordable, entry level computer, COSMIQ+ is a bottle, hiding a powerful social network genie. This is the simplest way we found to describe COSMIQ+ beyond its use as a dive computer.
The Basics
COSMIQ+ is a wrist-worn dive computer that can be used for scuba diving with Air or Nitrox, as well as for Freediving. The COSMIQ+ also come with a Bottom Timer Mode for technical divers who just want to keep track of depth and dive time.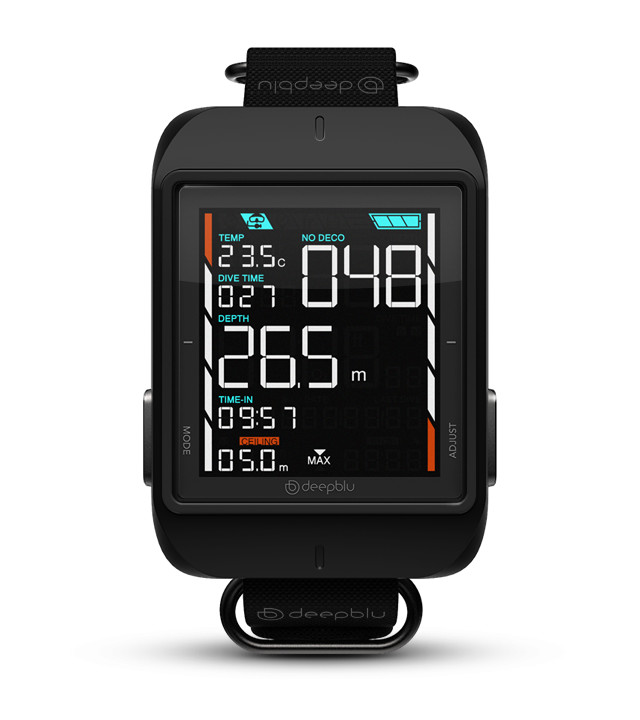 The bright LCD screen is easy to see underwater and has all the vital information you need for diving. The top right of the screen shows how much time you have left at a certain depth (No Decompression Limit), and to the right, you find the water temperature, followed by how long you've been in the water.
Below dive time in the center of the screen is your current depth, followed by the time you entered the water. As you ascend, a safety stop timer appears at the bottom of your screen, counting down 3 minutes when you hit 5 meters or 15 feet.
As far as dive computer go, COSMIQ+ gets the job done keeping divers within safe limits, providing safety stop timer, Nitrox compatibility and includes audible alerts if ascending too fast. It also comes with a planning mode to use between dives for calculating your surface interval times. *Check back for a future article dedicated to the Dive Plan Function. 
Battery
The COSMIQ+ has an internal battery which is charged using a magnetic USB cable. The charge lasts around 6 hours, and we found our battery lasted for two days (4 dives).
By the end of 4 dives, the battery indicator was left with one bar which should be 10-30% battery life remaining. We wouldn't be surprised if a fully charged COSMIQ+ would last one or two more dives, but we didn't want to push this theory and risk draining the battery underwater.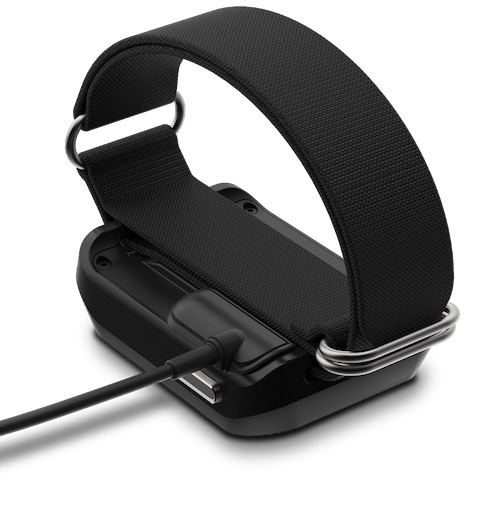 There are Pros and Cons with a sealed battery. Pro you never have to change the battery. Con, if you are diving off the grid, chances are your computer would run out juice after two or three full days of diving.
While we do carry a mini solar panel and backup power banks to remote locations, I wonder how long it would take to charge the COSMIQ+ via solar panel? Nevertheless, I am sure this off the grid power conundrum only applies to a small percentage of divers, but the thought did come up.

First Dive Computer Or Affordable Upgrade
At $299 USD you really can't go wrong. The price is comparable to other entry-level dive computers, with added value coming from the growing Deepblu Social Network. Remember the genie we talked about earlier?
Whether you are new to diving or a seasoned professional, COSMIQ+ Dive Computer has all the bases covered for recreational scuba diving. If you love traveling, diving, meeting new people and sharing your experience on social media, then COSMIQ+ should be at the top of your scuba gear wish list.
Setting Up Your Cosmiq Dive Computer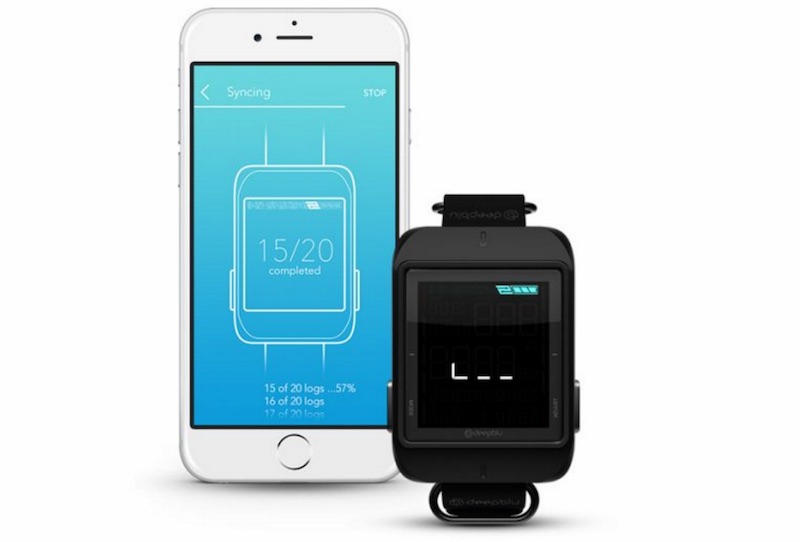 You will need a smartphone to access the COSMIQ+ setting menu. To do this, you need to download the Deepblu Mobile App and sync COSMIQ+ via Bluetooth.
Deepblu IOS App | Deepblu Android App
From here you will be able to adjust time and date, distance measurement units (Meters or Feet), underwater alarms and more. Syncing with the app is also necessary for creating digital dive logs and unlocking the COSMIQ+ universe.
Storing, Logging and Uploading Dives
We are already a big fan of logging our dives. Nothing fancy, we just use a notebook and write one line of information about what we saw including date, depth, dive site name, and dive time. While this can be tiresome for daily diving professional a few years down the road, it's a nice little keepsake to have. COSMIQ+ digital logs take these dive memories to the next level.
With COSMIQ+ you dive profiles are stored on the computer waiting to be uploaded to your Deepblu profile. The computer can store up to 25 dives at a time but will sync to your Deepblu Mobile App using Bluetooth in a minute and a half, so you shouldn't need to store more than that.
Your stored dives will upload as drafts to the app regardless of cell phone or internet connection. However, if you plan on uploading several days of diving at once, we recommend keeping a few notes like date, dive number, and dive site name to jog your memory once your start editing your logs.

COSMIQ+ Digital Dive Log
Once your dives are uploaded you can, start creating digital dive memory by uploading photos, videos, and notes to go along with your dive profile. Digital dive logs are a visual way to remember and share your dive.
You can edit your dive logs using the Deepblu mobile app, or by login onto the Deepblu desktop platform. You can also use the Deepblu to discover logs of fellow divers, and share your own adventure with the world.
Uploading and editing your dive logs using both platforms (Mobile and Desktop) can be a little confusing at first, as they both have different layouts and limitations. We've written a more in-depth post about creating digital dive logs using both the Mobile and Desktop platform which you can find here.

COSMIQ+ Dive Computer and The Deepblu Social Network
If you can't already tell, what excited us about this dive computer is the social network being created by COSMIQ+ users.
A typical dive lasts between 45 minutes and an hour. The euphoria from being underwater in a whole new world, can last for hours after a dive, and with COSMIQ+ it never has to end.



Once you've uploaded and created your digital dive log you can explore and interact with the Deepblu community. The Deepblu network allows you to discover trending stories, follow divers, and browse dive logs for a peak at dive spots around the world.
Community Groups
You can even create, and join groups, building a network of dive buddies around the world! We've already created two groups dedicated to our passion for reefs and diving.


The Coral Restoration group is for anyone who is interested or working with a coral restoration project. We encourage anyone to post about their own experience. Tell us how many fragments of coral you have planted, what type of structure did you use to grow corals and feedback from your experience.
We would love to see this group inspire more restoration projects, and create a network of independent dive centers and divers, motivated to start their own project. If you want more information you can also ask questions, and get advice from experts.



In the Coral Identification group, you can learn to identify corals from around the world. You can also help other members learn about corals, by posting your pictures. We will do our best to identify any corals you upload to this group!
Next time you go scuba diving remember to snap a few coral pictures and share them with the coral identification group, along with where you took the photo. We can all learn from each other by posting pictures.
Conclusion
In conclusion, the COSMIQ+ is a competitively priced computer, suitable for new divers, experienced divers, freedivers, and dive professionals staying within recreational limits. The COSMIQ+ also features a bottom timer mode for tech divers.
The screen is easy to see underwater and syncing your dive profiles couldn't be easier. You can collect your memories in visual dive logs and seemless share with the growing Deepblu Network, all with a safe and easy to use dive computer.
We are excited to be a part of this shift towards connected diving, and we are glad to see COSMIQ+ and Deepblu leading the way.


FTC regulations require that we inform you that we were given this product for review, but our opinion of a product is never affected by how we acquire them.