It's been a while since they made waves but Cairns Marine is back in the spotlight with a fantastic coral, and even more amazing new abyssal reef fish. The very colorful thickspine Acan and the Goldrim Chromis are two very different and exciting reef animals that anyone would love to enjoy in their personal reef tank.
The thick spine brain coral, Acanthastrea pachysepta is a fleshy large polyp stony coral that was long considered a species of Lobophyllia, but this coral looks and especially behaves very differently from a typical Lobo. Coral collectors have known for a long time to separate the 'orange Lobos' from all the others because these corals will sting and kill every nearby corals, something we have personal experience with.
Thick Spine Acans are very common and hardy corals, often seen in green or orange colors, sometimes with a differently colored mouth, and we respect the vitality of this coral in an aquarium. The Thick Spine Acan that Cairns Marine recently collected shows a beautiful mix of orange and green color spread throughout its tissue and attractive splashes of dark and pink colors randomly distributed.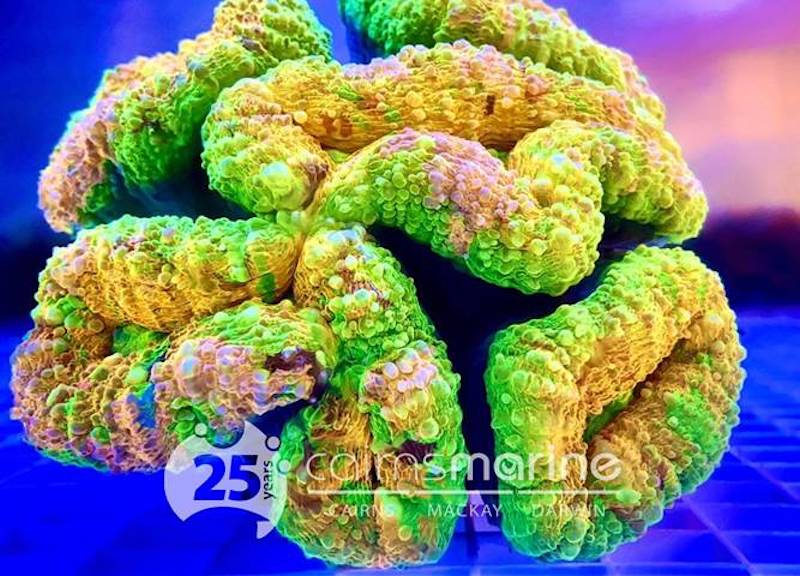 But perhaps of bigger news is a pair of Goldrim chromis, Chromis circumaurea which are the first ever collected alive for the aquarium hobby. At first glance these unique little chromis don't look all that dissimilar from typical yellowtail damselfish but these fish will grow up into something very different.
The Goldrim Chromis were collected on October 19th from Flora Reef, Coral Sea 110 nautical miles east of Cairns from the depths of 146m with only 6 minutes of dive time allowed below 135m. These Chromis circumaurea were found in a geological fault line running from about 130 – 150m with a meter high crack where Tim Bennett was looking for an abei angelfish when the group of about a dozen tiny chromis presented themselves. With limited time, two juvenile Chromis were scooped while scanning the chasm.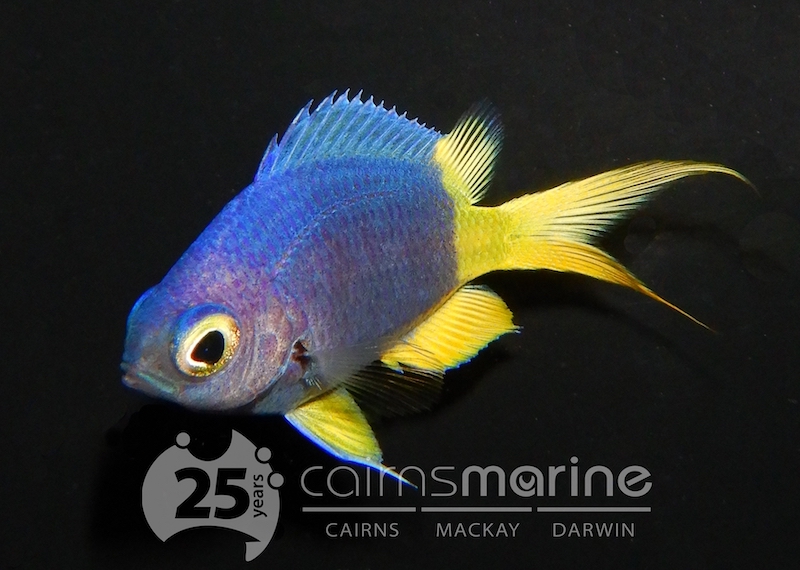 This is the first time this species of chromis have been collected and available for the aquarium trade, they are juvenile and are about 4cm from mouth to tip of tail. At this size the goldrim chromis are a lustrous silvery blue over a majority of the body with yellow pelvic, anal, and posterior dorsal fin as well as most of the tail.
As with many other species of Chromis, the body coloration becomes muted with age and maturity but the Goldrim chromis retains its bright yellow coloration actually spreads over much of the dorsal fin, really creating the appearance of a yellow crescent framing the fish and leading to its namesake. Further adding to the showiness of this very rare damselfish is that it grows to a size of 10cm or around 4 inches so the collector that invests in this unique species will be rewarded with a very beautiful, one of a kind deepwater fish.