The Rail Mounting System is part of Illumagic's efforts to flesh out their lighting ecosystem in advance of the release of their new X4 Light Fixture. We've seen many companies offload the work of having a compelling mounting solution to other existing mounting system but having a variety of mounting options can really help users make the most of their lights.
For years we've relied on suspending various light fixtures in a hanging orientation and goosenecks to achieve a particular orientation and illumination of our aquarium fish, corals, and aquascape. We feel very strongly that lights need to be angled backwards to achieve a maximum aesthetic presentation of a reef aquarium display, especially when the illuminated side of corals tend to be the healthiest and most colorful.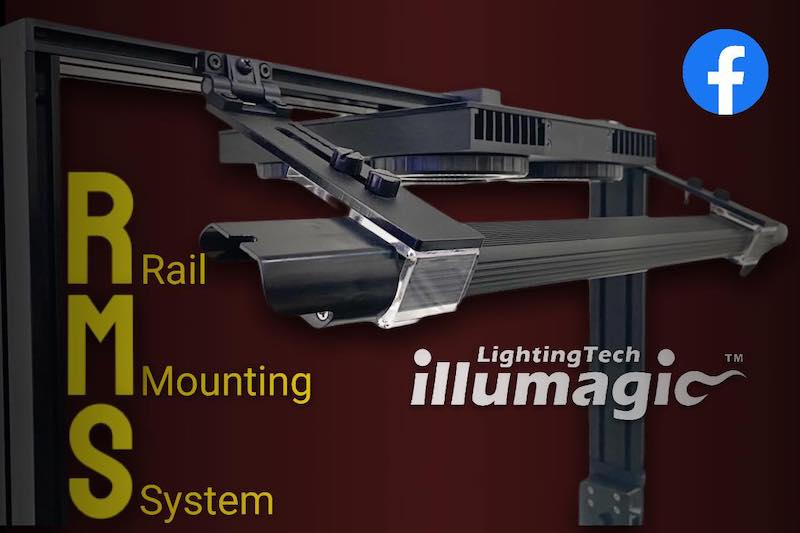 The Illumagic Rail Mounting System is a thoughtfully designed solution to mounting aquarium lights with lots of neat tricks and features that lean into what discerning aquarists really want. The frame of the Illumagic RMS looks simple enough being made of extruded aluminum and fastening securely to the sides of the aquarium walls but it's the add-ons that help to leverage some of the most ideal mounting positions possible.
There will be different mounts to attach each of Illumagic's LED lighting offerings to the rail including a hinging mount for the supplemental Vitamini LED striplights, and ball mounts for the Blaze Mini and X4 that can articulate in pretty much any orientation. The new light positioning solution from Illumagic includes convenient grooves for routing cables and wires to keep everything clean, and you'll still be able to leverage some of these various mounts with a hanging pendant rail, for those of use who prefer to keep our rimless tanks free of obstructions.
Illumagic has engineered a ton of different options to their new rail mounting system and while we don't know how much these parts and pieces will cost, we shouldn't have to wait too much longer since they are planning to be released next month in April.