The Illumagic X4 is an interesting new LED aquarium light fixture coming soon from the makers of the popular Blaze fixture and Vitamini striplight. The new X4 LED retains much of the core lighting engines that has found popularity among some reefers for its more gentle spread and good balance of color, with two interesting departures from the previous generations of Illumagic lights.
The Blaze and Mini LED lights enjoy a substantial heatsink that is essential to keeping the LEDs cool, but Illumagic has typically used enough material so that the included fans rarely have to come on, leading to silent operation in cooler climates and at anything but the highest lighting intensities. The much thinner profile of the Illumagic X4 indicates that this lower profile LED light will rely more on active cooling from built-in fans resulting in a thinner and lighter light fixture overall.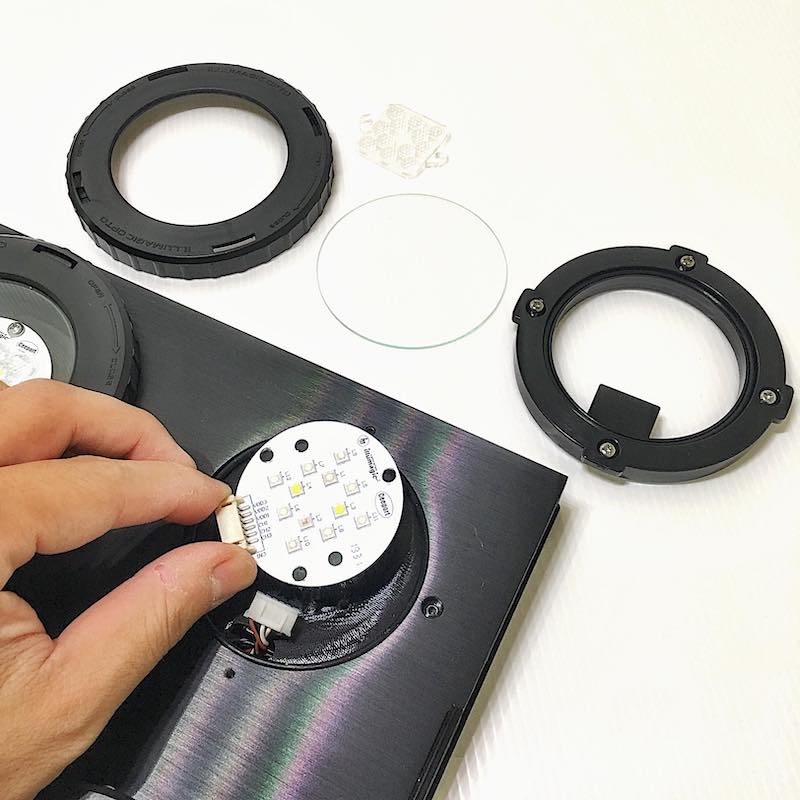 Perhaps the more important tweak of the X4 is the use of an enhanced quick-disconnect design to make the swapping of their LED clusters that much more user serviceable. The current catalog of Illumagic lights have always enjoyed swappable LED clusters but in the X4 it seems that Illumagic is doubling down on this popular feature that once was the hallmark of many different LED light manufacturers.
Since it uses Illumagic's legacy LED clusters, we assume the X4 will have a maximum power output of 120 watts and if it's basically two Blaze Minis, we anticipate a suggested retail price comparable to two fixtures when it gets released earlier in 2021. With their standard freshwater, marine, and the newer Actinic LED clusters, each with three channels of control, Illumagic already has a nice diverse palette of lighting colors for aquarists to mix, match and program to their desired taste. Together with their optional secondary lenses the Illumagic lighting range is one of the most versatile in the reef aquarium market and the Illumagic X4 will only help to further this user friendly engineering trend.