Large showy anemones were once among the most revered of all reef aquarium animals with species like Ritteris and Carpet anemones often being a poignant accent and conversation starter in nice large reef displays. Besides bubble anemones and the smaller flower and mini-max anemones, reefers have not yet clamored for other species of anemones to spice up their reef tanks but it appears that we are on the cusp of a new surge of one of the weirder species, the pizza anemone.
Also known as Cryptodendron adhaesivum, the pizza anemone first started showing a little leg in the broader hobby several years ago when a very limited number of specimens started showing up with unbelievable colors. We shared some photos of really incredible specimens way back in 2017 and thought that these would be the first of more to come but pizza anemones in general have remained very scarce, and little known, in the intervening years.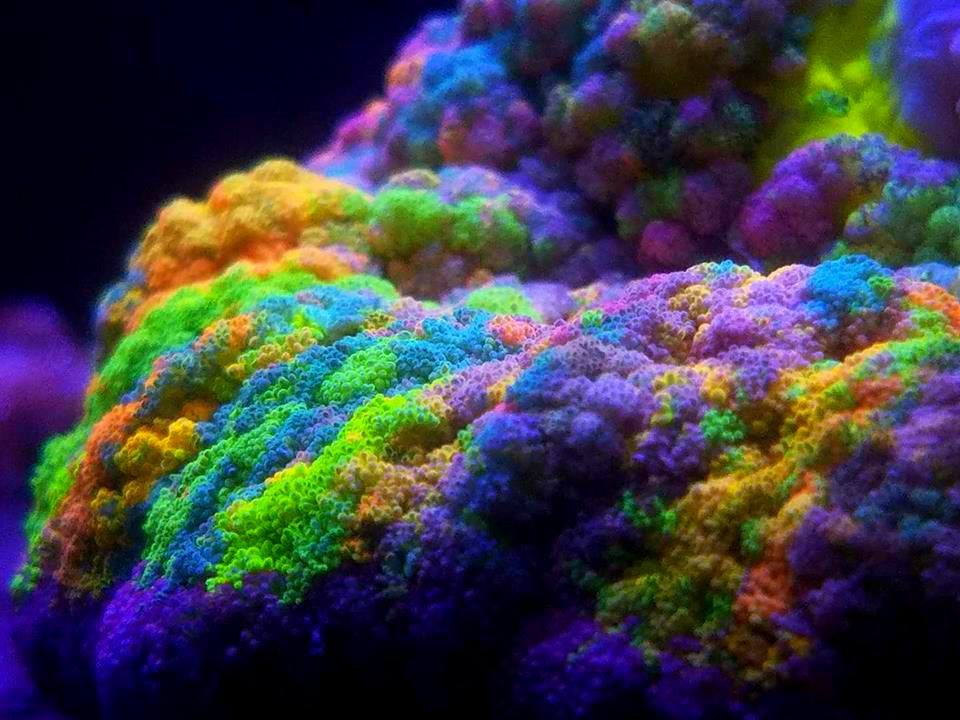 We're not sure what has prevented the wider popularity of pizza anemones but we've seen a much greater number of Cryptodendron in the aquarium hobby over the last couple of months and acquired the specimen pictured in the header photo from Lucky Corals, and we are aware that at least one well known coral vendor has been working hard to source some unforgettable specimens from Indonesia. Two Guys Corals has made a reputation for providing some pretty colorific polyps and corallites and lately they've been attracting the attention of anemone collectors with a new crop of sensational pizza anemones.
Pizza Nems are not your typical carpet or ritteri and seem to experience some stress due to collection and transport, so the images below are just a taste of what their coloration and patterning will look like once they have a chance to settle into ideal aquarium conditions. The base coloration of 2GC's current crop of pizza anemones is mostly a minty green but many of these are ringed with a brightly colored outer edge, distinctively colored mouths, with a whole rainbow of yellow, orange, purple and lavender colors that are just begging to be brought out with a good diet of nutrients and optimized lighting.
We haven't seen many pizza anemones while diving on natural coral reefs but when we have, they were always in very shallow water often living on a vertical or sloped surface between light-hungry stony corals. One interesting quirk about Cryptodendron adhaesivum is that only one species of clownfish is known to actively host in them, the Clarkii clownfish – other clowns may attempt to host pizza anemones in reef aquariums but these more often than not end being eaten as this anemone's potent sting and sticky tentacles give more common Stichodactyla carpet anemones a run for their money.
If you think that carpet anemones are sticky, pizza anemones take this characteristic to a whole new level and reefers should exercise great caution as to which fish are kept with pizza nems. There is a real hazard of pizza anemones making a snack of most smaller fish that stray too close to its extremely sticky oral disc, perhaps explaining why this species hasn't yet been celebrated nearly as much as bubble anemones which readily propagate. However if reef aquarists are aware of the risks, pizza anemones offer something new and very showy and we can't wait to see how all these new colorful specimens from Two Guys Corals blossom in their future aquarium homes.