Acrylic tank manufacturers New Wave has produced a range of glowing aquariums called Voodoo. Edgelit acrylic sheets are not new, nor even glowing edge aquariums, but Voodoo is not what you think it is, as it's actually the glue that makes these tanks glow.
"After 2 years of mixing and brewing, we created a voodoo phosphorescent adhesive that makes the seams of your aquarium glow in a magical way," says New Wave Concepts. "Best of all, it works without any additional light source."
Three models make up the limited edition Voodoo range – Cube, Fragtank, and Rectank. They range from one to two feet in length and come in five colors – green, orange, red, blue, and rainbow. At Interzoo in Nurnberg, they showed off a larger cube reef tank voodoo concept, accompanied by a half steampunk, half shabby-chic cabinet. Being custom builders, they are probably capable of making a glowing tank in any shape and size too.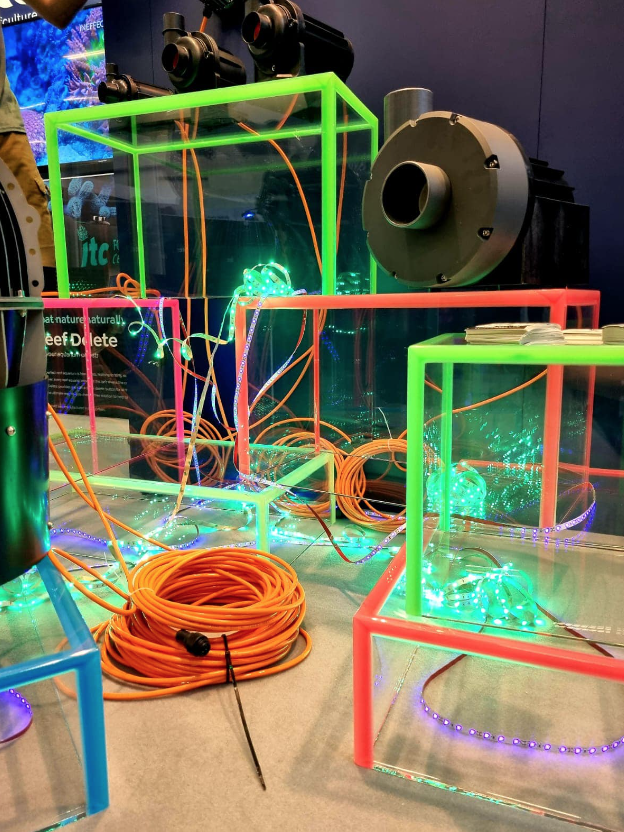 The Interzoo concepts were made from deliberately thick sheets of acrylic to accentuate the glowing edge, but standard thicknesses are 10mm for the little cube and 15mm for the rectangles. At first look, we thought the cube reef was perhaps backlit to shine through the panels just like aquascapers do with low iron glass, then that the aquarium light was making it glow. These things actually charge up in light however and then glow for up to 12 hours afterward, so maximum effect will actually be achieved after lights out.
Voodoo tanks won't be to everyone's taste but they did serve to brighten up what was an otherwise quite bland pet trade show. Prices range from 259-499 euros. Merch is also available.