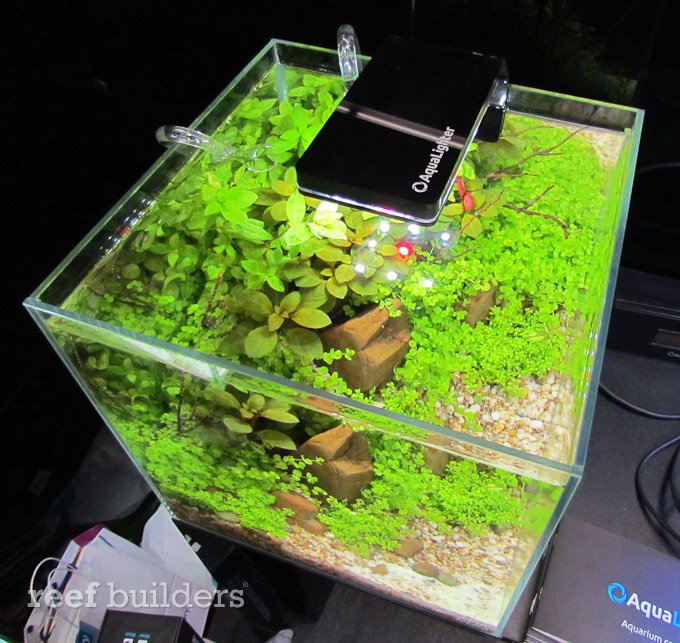 The AquaLighter LED striplights and nano LED fixtures are made with a design that stood out among a sea of other LEDs displayed at InterZoo. Whereas the huge range of unmentioned LED strips are made in China, the sleek and slim looking AquaLighter LEDs are made in the Ukraine, by a pet product company called Collar. Perhaps it's because the AquaLighter originates from the Eastern Bloc that it is a very inexpensive light, yet it looks like no other LED striplights we've seen before.
The average reef aquarist woudln't know this but freshwater gardening is actually taking off in Eastern Europe and several top placing entries in the International Aquatic Plant Layout Competition have actually been from that part of the world over the last few years. Perhaps the presence of a high class nature aquarium scene is what prompted Collar to develop the simple AquaLighter LED lights.
At a list price of about 380 Hryvnia or about $50, the smaller AquaLighter Nano Marine LED light is almost a consumable price, which is perhaps what this light is made to be. Since the AquaLighter LED is all laminated together, there is no chance of servicing or replacing the LEDs once they wear out, which could also happen sooner than later since there is no actual metal heatsink or fins, just a couple layers of acrylic encapsulating a thicker area where the LEDs are.
The larger AquaLighter fixtures however are made from a nice Aluminum sheath with all wiring and hardware coming out the ends, and looking just as attractive as its Nano Marine sibling. The clear acryic brackets used to hold the AquaLighter LED strips to the aquarium are also very neat in the way they embrace the entire fixture and matching the fancy glassware that is popular in freshwater aquatic gardening. For all the styling that AquaLighter has brought to their LED striplights, we are glad they made some marine LED colors because they look great over an aquarium, and both plants and corals look really nice under the AquaLighter LED.