Today we kick off the start of our Coral of the Month series in conjunction with Bali Aquarium. What makes this series unique is that in most cases we will try to tell you about a new coral both how it is found in the wild and how it behaves under aquarium care. The farmers at Bali Aquarium are always coming up with new coral strains and species to mariculture and it is with sincere gratitude that we get to introduce to you the first Coral of the Month, the incredible Hurlock Acropora.
The Hurlock Acropora is the last comer of the recent deep-water staghorn frenzy. It is probably related to Acropora carduus and its closest cousin the Red Dragon Acro. We normally find it on fringing slope, or reef ridges going down strait to the abyss of these volcanic islands, living together among fields of finely fast growing and widely spreading species of corals such as Anacropora spinosa or A. forbesi, or within large colonies of Montipora capitata or Palauastrea sp covering hundreds of square foot over soft substrates, mix of sand and rubble, or pebbles.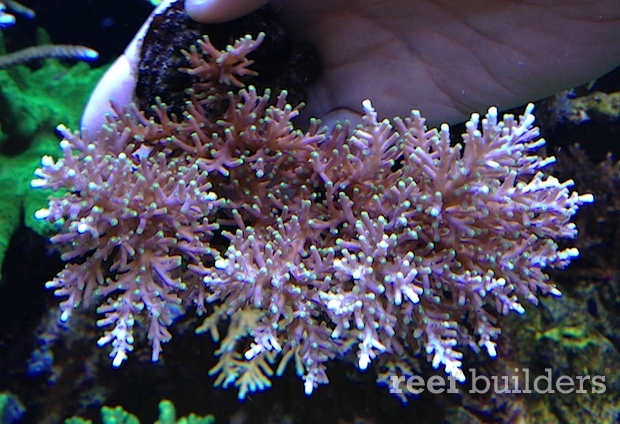 The water is relatively turbid and depth ranges from 30 to 60 feet, although we have already seen rarely some colonies in as shallow as 12 feet. Groups of Flasher and Fairy wrasses are the typical fishes wandering these coral fields together with some species of Pygmy Angelfish such as the infamous SPS tank reject, the coral beauty (Centropyge bispinosus).
It isn't a striking species when seen under water, although it's yellow tipped corallites over a pale pinkish body and bushy appearance is quite unique. But it's under aquarium condition that the Hurlock Acro reveals its true awesome personality. It will become deep red, then deep purple with bright yellow polyps. It grows fast a very fine and fragile skeleton.
Also let us not forget that these deep water species, need less light, less water movement than the classic shallow water SPS species, and thus can survive is less than optimal SPS tanks or occupy a darker corner of the SPS well lit tank.
We've been growing a colony of the Hurlock Acro that we picked out in Bali since early this summer and boy has it grown. Just yesterday after only five months of aquarium growth we fragged off about as much of this coral as we started with, and a beautiful colony left over with no sign that any branches had been removed from it.
The Hurlock Acropora is very similar in growth form to the Red Dragon Acropora but under captive care it grows faster and even more numerous, closely spaced branches approaching the density of the Hawkins Echinata Acro which is actually Acropora turaki. Nearly all of the images shared with you here are taken only under metal halide lighting with no supplemental blue lighting, but we can't imagine how much more colorful this colony would be with just a touch of blue LED spectrum.
The Hurlock Acropora is named after Stephen Hurlock, a patron of the aquarium arts who supported the marine aquarium community for more than three decades. You may be more familiar with his Rocky Mountain Reef Tank which was seen by the country's best reef keepers who all agreed at the time that it was one of the best private aquariums they'd ever seen.
Steve Hurlock's fabulous reef aquarium is immortalized in The Coral Reef Aquarium and now Steve's memory and all the work he did to push the aquarium hobby is remembered with the naming of this fabulous new coral strain for the aquarium hobby. Rest in peace my friend.