The Lightning Maroon Clownfish is a wild strain of Premnas biaculeatus that took the world by storm when it was first discovered. Only two specimens were ever collected from Fisherman Island a short distance from Papua New Guinea's capital of Port Moresby, garnering worldwide attention when the saltwater aquarium world learned of its existence.
It is with a sad heart that we learned of the passing of Mama Lightning, the second of these lightning maroon clownfish collected in the wild, but boy did she make an outsize contribution to the world of captive bred and domesticated clownfish in the marine aquarium hobby. First entrusted in the care of Matt Pedersen over ten years ago, Mama Lightning is the ancestor of many thousands of captive bred lightning maroon clownfish which have made their way to all continents of the world.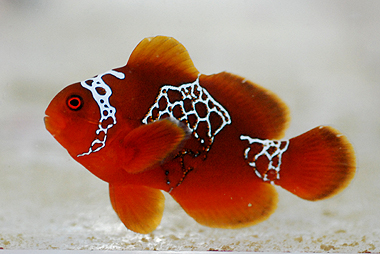 'Mama' lightning was first collected as a small, two inch specimen which would have been a male at that time, but it would be two years before Mr. Pedersen succeeded in breeding this awesome fish. In the intervening period the small Premnas grew to a larger more developed size, becoming a female, at which point it was then a large mature individual.
There was never a doubt that Mr. Pedersen would succeed in breeding this fish, but what he bred it with would be critical to the outcome. Only two true lighting patterned maroon clownfish were collected from PNG, but other specimens from Fisherman Island showed a small degree of aberration with small dashes and spots in addition to the pure, thin white lines of a normal maroon clownfish.
There was some expectation that the ensuing offspring of the lightning maroon crossed with a local PNG maroon clownfish would be interesting, but to everyone's surprise a significant number of clownfish from the first batch displayed the lightning pattern. These F1 lightning maroon clownfish turned out almost as beautiful as the original Mama Lightning and most of these were distributed to captive breeders around the country.
Within a few short years there was a small supply of lightning maroon clownfish available to private aquarists for a reasonable premium, but the demand stayed so high that lightning maroon clownfish were produced in huge numbers. In time the lightning maroon clownfish strain had become so common that it was possible to come across small individuals for a paltry sum of $60 at local fish stores.
To the credit of Mr. Pedersen, he turned a singular fish into a whole nation of lightning maroon clownfish that are now available to reefers all over the world, and the strain has been remixed and continues to be developed into a myriad of forms and new strains. Although the original Mama Lightning has recently passed, the legacy she leaves behind is almost like a fairy tale, and her contribution to maroon clownfish genetics is almost immeasurable.
If you want to follow along with the saga of Mr. Pedersen's efforts to share the lightning maroon clownfish with the world, definitely head over to Lightning Maroon Clownfish Project. It is a sad day to lose such an important fish to the saltwater aquarium world, but we celebrate Mama Lightning more than we mourn her, and Mr. Pedersen certainly deserves recognition for successfully breeding and developing this awesome clownfish strain from Papua New Guinea.