As technology has advanced in the past ten years with our reef tanks – so have the options available to reef aquarists and the corresponding supporting technology ecosystems. These new reef tank ecosystems give advantages and disadvantages to saltwater aquarists like never before. An ecosystem is like a platform, just like Android vs. Apple.
Companies that have a platform are different from platform companies. The former tend to offer a platform in a specific product sense, while the latter is broader and tend to build hardware, operating systems, and software on top of their stacks. In other words: an end to end integration.
In early 2010 it was a buyers market in the reef aquatics industry. You can easily pick your pumps, lights, and skimmer and plug them into your favorite aquarium controller, and everything would just run. You, the hobbyist, could decide which piece of aquarium gear you would prefer, and your tank would run that gear. Today, however, things have changed completely, although we have more automation options than ever before; we have to make hard decisions on the products that run our prized reef tanks because we could expect ecosystem platform lock-in.
Let's discuss the state of the technology ecosystems for saltwater aquariums.
Ecotech Marine
When Pat Clasen, Tim Marks, and Justin Lawyer came together and formed Ecotech Marine, it helped change the industry. Their flagship product, the Vortech water pump, revolutionized how we moved water in our aquariums. It sat in between your glass or acrylic pane of the aquarium and used a propeller to move water around. At the time, boring powerheads that added heat to your tank or complex, intricate closed-loop systems were our only options, but their new product changed all that. They soon won a patent on the unique propeller pump. The pump was a huge success in the industry, winning a Reef Builders Editor's choice award in 2009.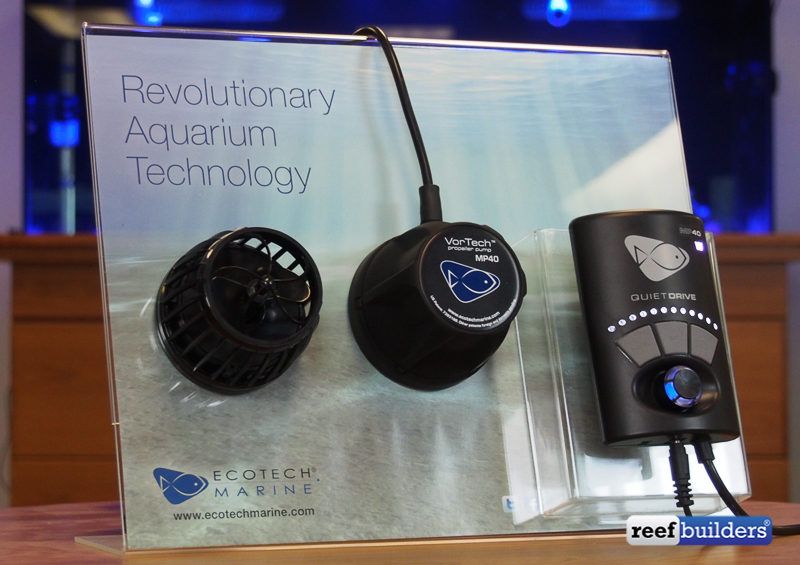 Several years later, Ecotech Marine came out with an LED lighting unit called the Radion, which at the time, we were hammering away at the benefits of using LED lighting in reef aquariums. For the first time, you could have an integrated water mover and lighting unit that worked together using a free product called Ecosmart Live and a $99 device that connected to the internet called Reef link. The illustration below showed the advantages of the system. Ecotech spent years developing the system, and it powers some very impressive reef tanks.
Using Reef Link and Ecosmart Live, you could control your pumps and lighting, and that was about it.
In 2013, Neptune Systems released the WXM module to let Neptune Systems Apex control the Ecotech Marine Vortech pumps. This module was inexpensive, and Vortech owners appreciated the device. The control chip is supplied by Ecotech Marine which then Neptune Systems markets to the Ecotech users.
Even with the success of Vortech, and Radion controlled through an Ecosmart Live, it wasn't a full deluxe aquarium control system. It didn't check your pH, ORP, or salinity levels, and it did not control other things like calcium reactors or other use-case reef equipment you could dream up. Those functions left to the full stack aquarium controllers like Neptune Systems Apex and GHL's Profilux.
In 2015, Ecotech marine released the Vectra – a centrifugal return pump that could be controlled by Eco Smart Live. However, this device was not able to be controlled by third-party controller platforms like Neptune Systems Apex, and no add-on module was available. Again, Ecotech Marine owners loved the instrument.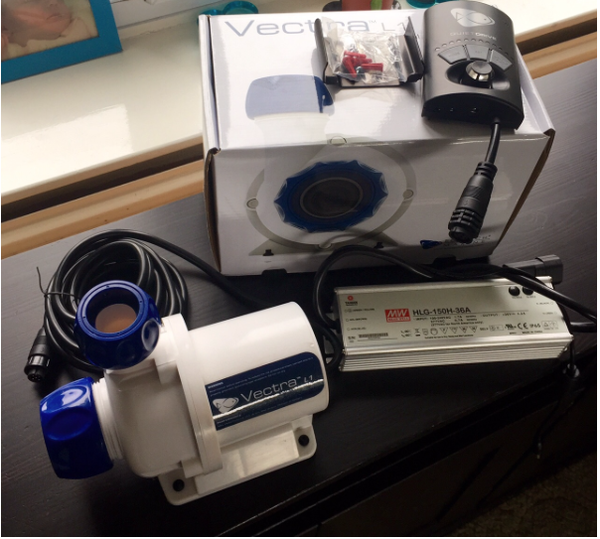 The Ecotech Marine Technology Ecosystem had just begun. In the summer of 2019, Reef Builders announced Ecotech was working on a new dosing and utility pump, called the Versa. The Versa dosing pump does not need to be connected to a central controller to work but worked best with the Ecotech Marine ecosystem.
Mobius – a new control platform from Ecotech Marine that was in beta testing users were very excited. Mobius was the last key in the cog to build a complete reef tank ecosystem. Mobius details are light, but we do know it's a platform for control and to expand the Ecotech Marine ecosystem to other components.
Neptune Systems
An electrical engineer named Curt Pansegrau founded Neptune Systems over twenty years ago. One of their main products was the Aqua Controller, which in the early days was a very advanced timer of sorts to control when reef gear would turn off or on and other various schedules. The product was a huge hit with aquarists competing with other now-defunct companies like Digital Aquatics Reef Keeper.
One of Neptune Systems' most significant product launches was the Apex – a full-featured aquarium controller that could do just about anything you wanted. The deluxe system, which carried an MSRP of around $800, was not cheap – but it offered advanced control to aquarists. Over time the Apex user group developed a fan base and loyal following among reef aquarists. The Apex was principally the brain of their ecosystem, and everything that hooked onto the Apex was dependent on the mind hub.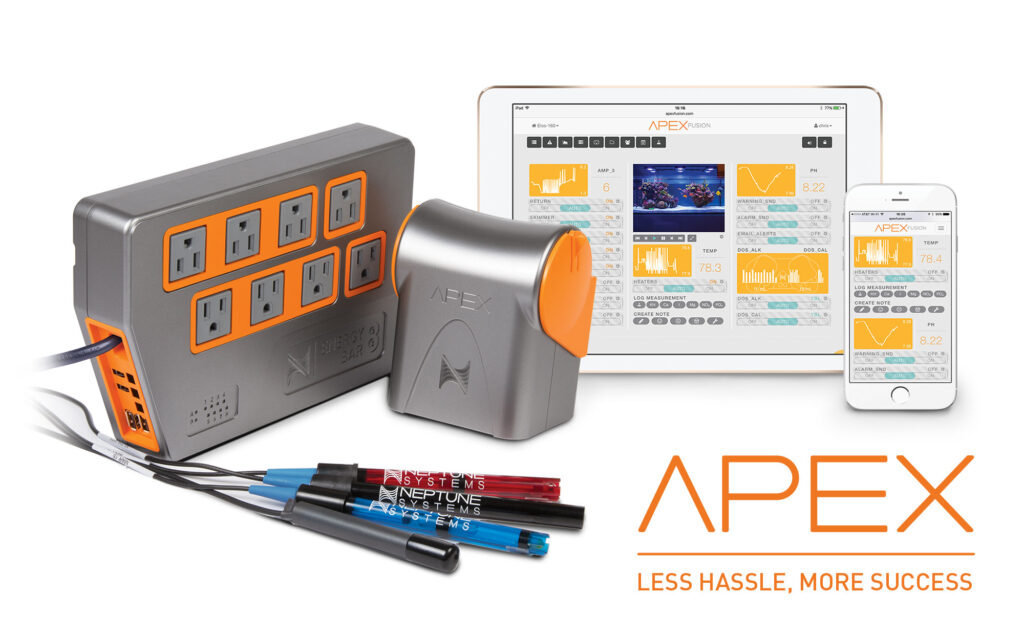 In 2012 the owner of Neptune Systems, Curt Pansegrau, hired Terence Fugazzi to run marketing and sales for the company. Terence is a very aggressive executive and described by a few of his coworkers as a "pit-bull," pushing his companies ideas and ideology to hobbyists. He was proactive and responding to criticisms of the direction of the products from current and former reef aquarists getting into disagreements in online communities where reef hobbyists gathered.
To his credit, though, Neptune Systems grew over 250% in revenue between 2012 and 2014 by bathing boxes in orange and spending considerably in advertising and event shows across the United States. Besides, he overhauled the UX of Apex to make it more appealing to users and expanding the product line. One such product was the Wav, a propeller pump.
About four years later, Neptune Systems came out with Wav -a propeller pump placed in the aquarium-like Tunze or other powerheads at the time. Neptune was not content with Ecotech Marine taking the majority of the market share of expensive water movers for aquariums. The marketing of the product was targeted directly at the Vortech; however, one small but subtle change on the Wav propeller pumps: you needed an expensive Apex only device to control the pump. No other controllers would work with the Wav pump. However, the Wav propeller pump was cheaper than other in-tank water movers available to reef hobbyists and pushed a lot of water and this was part of the ecosystem design.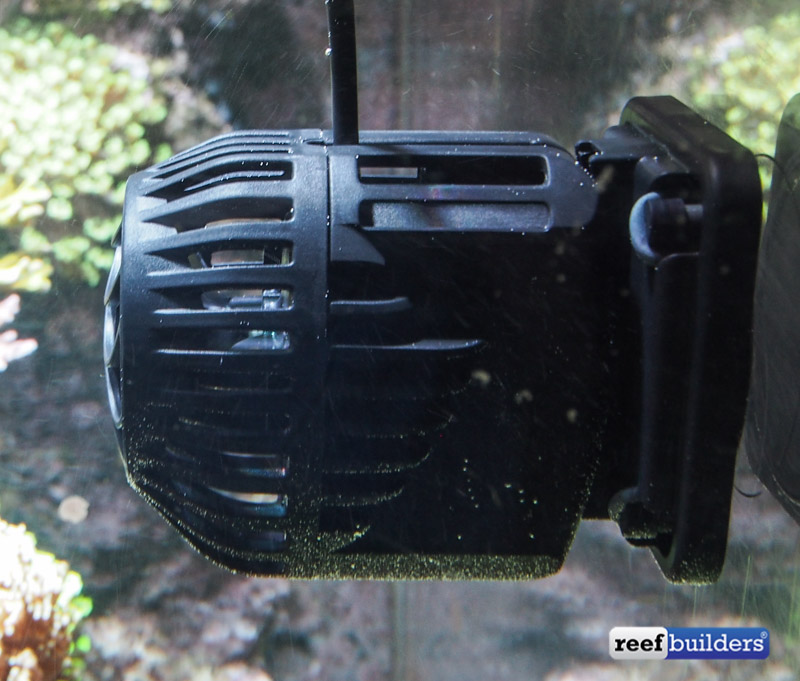 Neptune System had started its ecosystem and significantly expanded it to fill out the gaps in its product portfolio, including a dosing pump, return pump, saltwater aquarium water analyzer, automatic top off, automatic feeding, PAR monitoring among others.
The Neptune Systems ecosystem only worked with the master (Apex), and the other add ons (slaves) did not work with other controllers. One significant current gap with Neptune Systems is reef aquarium lighting, which we believe will be a new product to launch in either 2020 or 2021.
We reached out to Neptune Systems and they provide this quote: "This is not new for us. For over 23 years we have built an Apple-like approach to our ecosystem that provides the most benefits for those who choose from our expanding array of products, while at the same time not forcing customers to use only our products. We even offer to other manufacturers a means to integrate their products and solutions. We have strongly encouraged this type of heterogeneous operation and have developed the enabling technologies to do so via our Apex Ready and IoTa programs."
Aqua Illumination
Aqua Illumination just released their new line of Prime stand-alone lights and Hydra 64 LED lights. These products work in tandem with the myAI mobile application giving you relatively full control of your system. However, the brand new Prime 16HD Reef and other Prime products work on LE Bluetooth, not WIFI, a subtle but significant change like other Ecotech Marine products.
Aqua Illumination seems to be a great plug and play choice for smaller reef tanks and freshwater tanks, which we have a few in our Reef Builders Studio. Generally, AI is all about being simple as their tagline states, but the upgrade to LE bluetooth will cut into a lot of aquarium controllers on the market today.
Red Sea
Red Sea started over thirty years ago, based just outside of the Red Sea the company was founded by producing salt mixes, protein skimmers, and water test kits. Red Sea jumped on the scene with their very popular Red Sea Max all in one nano aquarium kits in the late 2000s.
When they released their Reefer series, yet another popular reef aquarium kit at Interzoo, it was again a smashing success. A package with most of the inter-workings of a reef tank included as part of the purchase price. Interestingly they had a distribution deal with Aqua illumination bundling their trendy Prime series lights for many many years. However, Red Sea secretly begins developing its series of LED lighting, calling it Reef LED, which received favorable reviews. Because they had their lighting system filling a gap they punted on their relationship with Aqua Illumination.
While building out Reef LED at the same time the company was working on ReefWave a water mover placed in the tank based on Gyre flow. However, Reef Led and ReefWave are all controlled by separate controllers, not one master control system.
While the additive business of Red Sea is very well established, including their salt mixes, their pure tech stack is only getting started, and we expect them to further invest in technology in the next several years. Remember, they invented the all-in-one reef aquarium concept, and we're excited at their possibilities.
We asked Red Sea and they provided this quote for the article. "Red Sea is committed to providing complete solutions that make reef-keeping easier, safer and enjoyable for hobbyists. The knowledge & experience we have gained over almost 30 years has enabled us to develop unique solutions that have enabled even beginners to maintain healthy and vibrant reef aquariums. Red Sea is fully engaged in the creation of its complete eco-system, which will integrate all the various components into one app that will provide hobbyists all the information and insights they require to run their system whenever they wish from wherever they are. We believe that our ecosystem will enhance hobbyists experience and satisfaction and eventually will make reef-keeping easier, safer and more enjoyable and hopefully make a reef aquarium into the aquarium of choice."
Kessil
To be clear, Kessil does not have an ecosystem in the hobby; they are in the business to sell lighting. However, they do have the financial resources to build out an ecosystem.
When Kessil arrived on the scene, they seemed to come out of nowhere, but in reality, they were funded by a large holding group called DiCon Fiberoptics, which specialized in light both in fiber optics and LEDs. Their complete line of aquarium LEDs is impressive and expansive with a large assortment of product offerings aquarists can mix and match their options.
Late in 2019, Kessil released their WIFI dongle negating the need for controller wires and used the overhauled and reimagined Kessil app to give more control to reef aquarists. However, when pressed on the question, Kessil reps stated they would prefer to use their wifi dongle as a communication device than the older Apex to wires control that is currently available.
Kessil told us they are in the process of building out a new cloud platform to control their lighting systems and to integrate it into as many external providers as possible. When asked about the ecosystems on the market today they are actively exploring other Kessil products to add value to reef hobbyists.
GHL
The Profilux by GHL has been around for several years and has a huge fanbase of aquarists when the Profilux 4 was released. The system designed by Matthias Gross, a German with a prove it to me attitude, is a programmer at heart, and his inventions reflect the level of detail you can dive into with Profilux. Over the years, GHL has built out its tech platform launching a highly rated dosing pump, Autofeeder, a just-released GHL ION director using no reagents and their version of a smaller LED aquarium lighting.
However, while they have a complete platform of products, they don't limit other company products working with their own Profilux 4 controller. Users have taken notice with users jumping ship from Neptune Systems Apex controllers to GHL as the controller platform of choice because of interoperability.
Tunze
Tunze a German manufacturer of aquarium pumps and water movers has a large assortment of products for reef aquariums. However, in the controller market at the time of this writing, they do not offer their smart controller 7000 which was released in 2016. This controller provided a host of options to control your reef tank. We expect new products to be released shortly at Interzoo 2020.
Interoperability
The days of interoperability are minimal, and with every passing day, you can expect reef tank platforms to lock you out of options. Some of you will not mind as long as it makes your reef-building life that much more comfortable, but the others will either figure out a method to hack the system or choose with their wallets on their ideal reef tank setups. Whichever route you take, choose wisely. As the company with the best ecosystem will ultimately win the war.