French aquarium fabricators Nosy Be Imports have launched a new reef-ready aquarium called Panama. Although available in just one 40", 110-gallon size, Panama more than makes up for the lack of models by offering a choice of cabinet color, pipework color, sump color, and even weir color. Offering every owner a unique color pallet that stretches way beyond the conventional.
The tank itself is rimless and made from 15mm thick low iron glass, and finished in clear silicone. The basic weir box is glass too, only it can be clad in the color of your choice and even the weir comb and return nozzle can be color-coded to your individual requirements.
Thanks to 3D printing every Panama comes complete with a choice of four different outlet nozzles for differing flow patterns, but rapid prototyping has also allowed for the design and manufacture of some pretty unique features on the rear of those weir combs that make up part of the closed-loop.
When is a closed-loop not a closed-loop?
Think closed-loop and you will probably envisage a tank with extra holes drilled into the base for bulkheads that attach to a pump, one acting as an inlet and one an outlet. But according to Nosy Be, their idea of a closed-loop is to have the kind of flow rate you would get from a normal magnet-mount wavemaker, but all traveling through the weir box instead.
This enables just one large pump to run both the filtration and the total tank turnover, and Nosy Be virtually built the tank around one singular main pump – a 14500lph (3830gph,) Abyzz A200-3M.
But most in-tank weirs are built to handle between a quarter and half that flow rate at most, so to get around this Panama comprises a super-sized 14"x6" weir box, twin 40mm (1 ½") return drains and some unique adjustable wave defenses built onto the back of the combs to allow for extreme surge while also operating quietly – according to its designers. And they programmed their pump to alternate between 55 and 80% maximum flow rate.
Alas at the time of writing the prototype tanks featured in the promotional videos are bare, even of water, so we haven't got to see for ourselves just how well this extreme, potentially 35 times tank turnover return actually functions. Nor do we get to take a true flow test after the restriction of pipework.
The single return nozzle looks way thicker than the average, but it's a potential fire hose too at full throttle, so we question if a sand bed would stay in place as an even base covering too. At 28" wide, front to back, Panama offers plenty of real estate for aquascaping, albeit slimming down to 22" at one end to allow for that mega weir.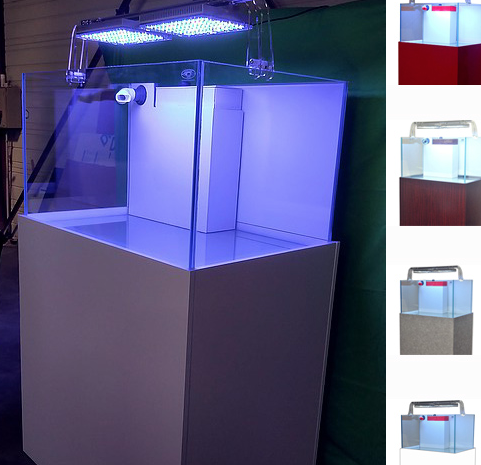 Removable PVC panels
The tank itself stands on a sturdy stainless steel stand with all four PVC cladding panels being waterproof, magnet mounted, but fully removable. Inside the cabinet sits an acrylic sump in a choice of colors and a massive 25-gallon top-off reservoir. The sump is basic in design with two seven-inch socks complete with silencers, a larger area to place a protein skimmer, and an adjustable height baffle.
We do still wonder why so many premium aquaria still omit roller filters and worse, make their retrofitting problematic too, but again with such a high flow rate traveling down the drains, all but the biggest rollers would simply flood within seconds and for the Panama at least, there may be no other choice.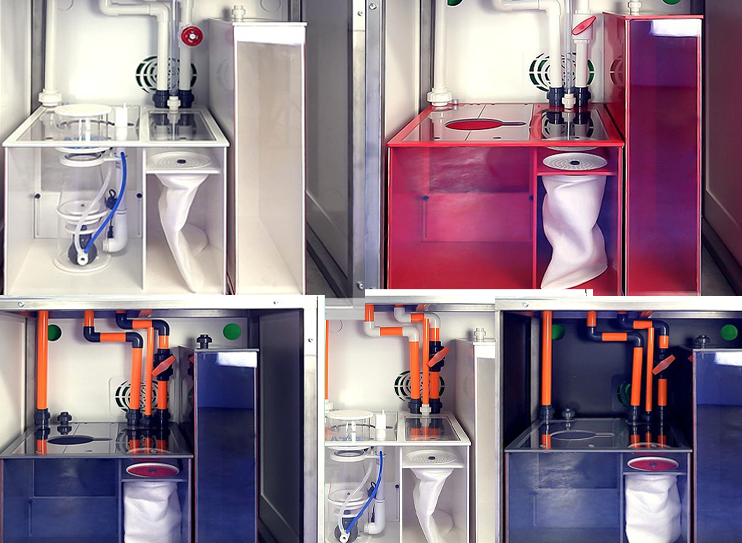 Verdict
Look at the Panama aquarium and that weir catches the eye first, but for all the wrong reasons. It's big and bulky and lacks finesse and elegance, despite its practicalities and the fact that you can dress it up in bright colors.
But why would you want a white weir box, red comb and a red outlet nozzle? And what if you want the weir on the right, not the left? There's a reason why 90% of reef tank manufacturers opt for a black central weir, black nozzle, and black vinyl wrap. Because it disappears as much as it can into the background and a black background enhances the coral fluorescence we all so crave when our tanks are lit by blue LEDs.
We love the form of reefing equipment as much as its function, but bright background and equipment colors detract from the fish and corals and show dirt and algae build-up at the same time. Luckily a more conventional black box, combs, and nozzle can still be specified with the Panama.
And as waterproof as that cabinet is, removing magnetized panels is still not as practical as simply opening a cabinet door to service a skimmer or check a thermostat, and despite the 24 cubic feet of space in the cabinet, there is no separate dry area for electricals or anywhere to display the controllers, dosers, and additives we all amass as reefers.
And for the 6000 Euros ($6770) and upwards price tag, when compared to other premium metal-framed tanks, it's something we'd like to see.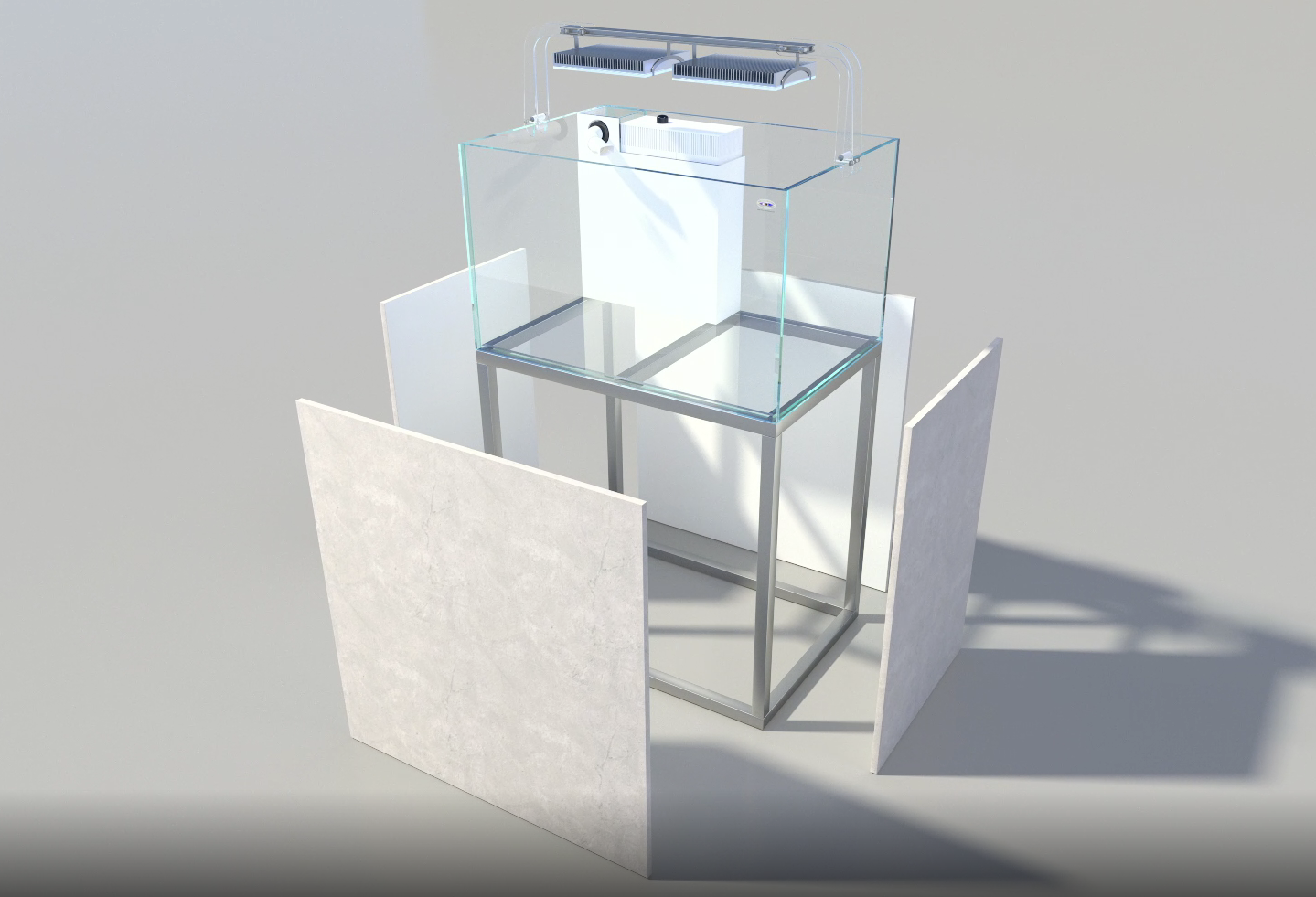 Panama promises the kind of reef tank design tweaks that we haven't seen since the Italians like Elos and Vitrea led the way over 10 years ago. But going by the prototypes on show in the video, some of the 3D printed parts look a little rough around the edges and the workmanship on that sump look isn't as neat as some of the weapons-grade acrylic precision we have seen coming from elsewhere.
The jury's out on that closed-loop too, as we're not sure an open weir with an adapted Durso counts as a true closed-loop either. But nevertheless, Nosy Be Imports is offering a five-year unconditional warranty on its new aquarium model and we never like to truly say never, until we see one running as a fully-fledged reef tank, for ourselves.